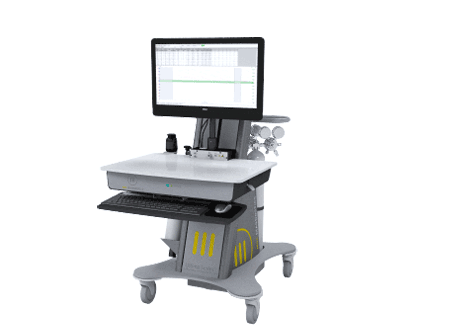 Indirect Calorimetry
Ultima CCM™ indirect calorimeter
The Ultima CCM™ indirect calorimeter uses advanced technology and gas analysis to measure subjects in even the most challenging ventilator environments. This includes bias flow, pressure support and elevated or fluctuating fraction of inspired oxygen (FiO2). Spontaneously breathing subjects can benefit as well, using one of the system's comfortable patient interfaces which include the preVent® face mask or face tent. The system uses its robust oxygen, carbon dioxide and breath-by-breath analysis to provide highly accurate resting energy expenditure (REE) and substrate utilization subject data to determine appropriate nutritional support. The fully adjustable desktop allows for expansive personal workspace whether the technician is sitting or standing.
> download (pdf): Ultima CCM™ indirect calorimeter
> download (pdf): Ultima Series™ cardiorespiratory diagnostic systems
> download (pdf): Face Tent
TRUE METABOLIC ASSESSMENT
Measurements can be obtained with breath-by-breath analysis or user-defined averaging.
Gas sensors measure both oxygen and carbon dioxide.
Ventilator patients can be tested on elevated (above 60%) or fluctuating FiO2
System is unaffected by ventilator pressure support/pressure control and bias flow.
Windowing function excludes non–steady-state data resulting from patient disturbances or test initiation.
Contact the MGC Diagnostics Sales Support Team for additional configuration information or to place an order:
> phone: +1 651.484.4874 or 800.655.1133 > fax: +1 651.484.8941 > email: salesservices@mgcdiagnostics.com
Test Modes (standard)

Spirometry: FVC, SVC, MVV
ABG: Arterial Blood Gas Entry
Direct Fick Cardiac Output
Nutritional Assessment

Additional Test Modes (optional)

Bronchial Provocation
NICO: CO2 Rebreath Indirect Fick Cardiac Output
O2 and CO2 Exercise Testing

Software Features (standard)

ATS/ERS Error Codes
Device Control
Disability Reports
Manual Data Entry
Microsoft® SQL Database
Pediatric Incentives
Report Designer
Trend Reports
User-Defined Predicteds

Additional Software Features (optional)

BreezeConnect™ HL7 interface software
BreezeReview™ physician review software
BreezeSuite MultiUser™ networking software
BreezeSuite WebReview™ physician review software
Exercise Consult™ physician interpretation software
ExerScript™ exercise prescription software
Pulmonary Consult™ physician interpretation software
Database Query
Electronic Signature
Exercise Flow Volume Loops
Quality Control Query
Contact the MGC Diagnostics Sales Support Team
to request a supply quote, or for volume discount pricing: > phone: +1 800.655.1133 Option 1 > fax: +1 651.379.8285 > email: supplies@mgcdiagnostics.com
to place and order: > phone: +1 800.655.1133 Option 2 > fax: +1 651.484.8941 > email: orders@mgcdiagnostics.com
download (pdf): > supplies > patient testing supplies

mouthpiece and adapter

Small (use with preVent flow sensor​)
PN: 536006-003
> qty: 10 per pack
Medium (use with preVent flow sensor​)
PN: 758300-001
> qty: 50 per pack
Medium (use with preVent filter​)
PN: 536101-002
> qty: 10 per pack
Medium with saliva trap
PN: 758301-001
> qty: 50 per pack
Medium (use with preVent flow sensor or preVent filter
PN: 536006-004
> qty: 100 per pack (disposable)
Large (use with preVent flow sensor​)
PN: 536006-001
> qty: 10 per pack
Pediatric (use with pediatric adapter
and rubber coupler)
PN: 536006-002
> qty: 10 per pack
Pediatric adapter (use with pediatric
mouthpiece and rubber coupler)
PN: 535082-001
> qty: 1 each
Pediatric/Small
PN: 536061-001
> qty: 100 per pack (disposable)

face mask and coupler

X-Small preVent face mask
PN: 670009-005
> qty: 12 per pack
Small preVent face mask
PN: 670009-001
> qty: 12 per pack
Medium preVent face mask
PN: 670009-002
> qty: 24 per pack
Large preVent face mask
PN: 670009-003
> qty: 12 per pack
Assorted: 6-S, 12-M and 6-L
PN: 670009-004
> qty: 24 per pack
Coupler
PN: 670010-003
> qty: 4 per pack

pneumotach and adapter

preVent flow sensor
PN: 758100-004
> qty: 24 per pack
Keyed
DirectConnect™ metabolic flow sensor
PN: 750066-003
> qty: 24 per pack
Syringe adapter
PN: 701240-001
> qty: 1 each
Umbilical adapter
PN: 701067-002
> qty: 1 each

umbilical

Umbilical
PN: 701066-025
> qty: 1 each




nose clip

clear: padded
PN: 536007-003
> qty: 100 per pack (disposable)
White: no pad
PN: 536007-001
> qty: 100 per pack (disposable)
Parallel
PN: 536018-001
> qty: 100 per pack (disposable)

face tent

PN: 536528-001
> qty: 1 each (disposable)
PN: 536725-001
> qty: 50 per bag

rubber coupler

PN: 536003-001
> qty: 1 each

gas

Calibration: 5% CO2, 12% O2, Bal N2
PN: 536053-001
> size: ED (disposable)
Reference: 21% O2, Bal N2
PN: 536053-009
> size: ED (disposable)
Calibration:5% CO2, 12% O2, Bal N2
PN: 536711-001
> size: WD (disposable)
Reference: 21% O2, Bal N2
PN: 536711-002
> size: WD (disposable)
Contact the MGC Diagnostics Sales Support Team for additional configuration information or to place an order:
> phone: +1 651.484.4874 or 800.655.1133 > fax: +1 651.484.8941 > email: salesservices@mgcdiagnostics.com
Test Modes (standard)

Spirometry: FVC, SVC, MVV
ABG: Arterial Blood Gas Entry
Direct Fick Cardiac Output
Nutritional Assessment

Additional Test Modes (optional)

Bronchial Provocation
NICO: CO2 Rebreath Indirect Fick Cardiac Output
O2 and CO2 Exercise Testing

Software Features (standard)

ATS/ERS Error Codes
Device Control
Disability Reports
Manual Data Entry
Microsoft® SQL Database
Pediatric Incentives
Report Designer
Trend Reports
User-Defined Predicteds

Additional Software Features (optional)

BreezeConnect™ HL7 interface software
BreezeReview™ physician review software
BreezeSuite MultiUser™ networking software
BreezeSuite WebReview™ physician review software
Exercise Consult™ physician interpretation software
ExerScript™ exercise prescription software
Pulmonary Consult™ physician interpretation software
Database Query
Electronic Signature
Exercise Flow Volume Loops
Quality Control Query